Service Pricing
Get A Price Quote Today
Pricing Is Custom In Most Cases. As much as we would like to list exact pricing for our services on our website, it is impossible to do so without misleading potential clients. Each Reputation Management campaign, and complaint removal, link removal and Google manipulation (SEO Campaign) is different and easier/harder, company "A" may have more issues and a more difficult campaign than Company "B".
THESE ARE EXAMPLES OF PAST PRICING FOR CAMPAIGNS Your Quote
May Be Lower or Higher Depending On Your Specific Needs. This is a guide:

| | |
| --- | --- |
| What You'll Receive... | Price |
| Bury 1 Complaint About Your Name (Jane Doe) | $555.00 |
| Bury 1-2 Complaint Links About Your Small* Business | $995.00 |
| Bury A Ripoff Report About Your Business 1-3 Links | $1500.00+ |
| | $5500.00+ |
| Bury A News Link About Your Name or Mugshot | $895.00 |
| Have 5+ Bad Links On Page One Of Google Buried | $3500.00+ |
| Proactive Content Campaign For Business | $595.00 |
| Proactive Content Campaign For Personal | $395.00 |
| RepuPak 2 Domains - 4 Blogs - 4 Social +SEO | $199.00 |
| RepuPak+ 4 Domains - 5 Blogs - 8 Social +SEO | $395.00 |
We accept credit cards VIA paypal for some campaigns. Ask about our payment options for your campaign. Larger campaigns may need secure funds to proceed. We also offer payment plans to build your confidence in moving fwd with us.


Reputation Armor provides custom price quotes by phone and email. It only takes a few moments to calculate a price quote for our clients. Contact us today and let us build a campaign price for your specific needs and situation. We are very competitive with our pricing model and try to offer the lowest cost Reputation Management solutions to our clients as possible.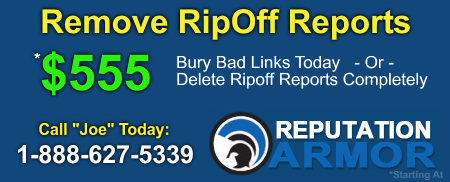 For a fast EXACT quote by phone or email please fill out the form located in the upper right corner of this page. One of our Reputation Management Experts will review your details and deliver you a confidential quote by phone or email within a few minutes depending on the current number of request in queue.
90 Day NO BS Guarantee Included
My 100% Money-Back Guarantee...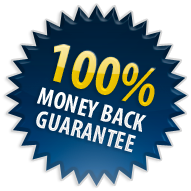 Listen, I want you to be as confident as I am and many of our new clients are. But just in case you have any lingering doubts about us whatsoever, I want to make it foolproof for you.
Retain Our Service Today
and let us work on your rip off report case or campaign for 90 days - Give us time to produce real results.
If we fail to deliver what we promise to you within 90 days or if you we fail you in any way.... We will refund your money 100%. We will put this guarantee in writing, signed by me "Joe" the VP Of Operations at ReputationArmor.com - Our ripoff report removal success rate has sky rocketed over the past 12 months with our new operation and methods. Give me a call today - I will talk with you personally to assure you, I mean business...
Joe H., VP Of Operations
ReputationArmor.com